Louie, Louie: A Portrait in Parkinson's is an extremely powerful documentary putting special emphasis on spouses and children in the role of caregivers. It is a great catalyst for group discussion and especially beneficial for neurology students in training. – Dr. Daniel Tarsy, Vice Chairman, Dept. of Neurology, Harvard Medical School
This film shows the effects of a degenerative illness (Parkinson's disease) and what it takes in courage and humor for each member of the family to make it through. Essential viewing for all health care professionals involved in the care of long-term illness. – Delaina Walker-Batson, Director, The Stroke Center-Dallas, Texas Woman's University
The video Louie, Louie: A Portrait In Parkinson's is very enlightening for Parkinson's patients and caregivers alike.
It shows the struggle that those affected by Parkinson's endure on a day-to-day basis and also the trials and heartache that caregivers experience.
I would recommend it for both patients and caregivers. – Etta Slaughter RN, BSN, M.Ed. Manager, Staff Development, The Visiting Nurse Association of Texas
A powerful intimate portrait that touches on caregiver issues, this film is highly recommended. – Video Librarian
I wish someone had shown me a film like this early in my professional career – Sandra Curtis, Speech Language Pathologist, The Stroke Center-Dallas
Louie, Louie: A Portrait in Parkinson's is a poignant, honest, real-life experience of what it means to encounter a life changing illness in the family.
This film invokes greater understanding, not only of the trajectory of his illness, but of the complexity of family relationships throughout life. I highly recommend Louie, Louie. – Janet Dahm, Associate Professor of Nursing, Saint Xavier University
This film puts a witty face to a tragic disease, making this intimate portrayal in Parkinson's shine all the more. Thanks to Louie's sense of humor and striking character, this enlightening film reminds audiences of how important it is to find a cure. – Kathleen McInnis, Programming Director, Palm Springs, International Festival of Short Film
I have seen many personal portraits and this is one of the strongest — you will be very moved. Allen and Cynthia are real treasures to the Dallas area.. – Bart Weiss, Festival Director, Dallas Video Festival

Sole Sisters
"Every Shoe has a story. Every woman has both." SOLE SISTERS will be a documentary film about women's lives seen through personal stories about their shoes. Anchored by the film, Media Projects will develop a multi-media platform with educational and entertainment experiences that include the web, theater and publishing opportunities.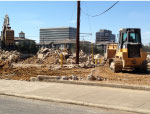 The Battle For Our Neighborhood
Tells the human impact of development over the past 15 years in a Dallas neighborhood. Its story can be repeated in other cities around the country.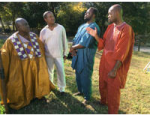 JOHN KIZELL: A Slave Fights Slavery
Recounts the heroic life of John Kizell - seized from his African village and brought to Charles Town, S.C. as a slave in 1773. Eventually, he returned to Africa as a free man to fight the slave trade.