Thanks for your support on North Texas Giving Day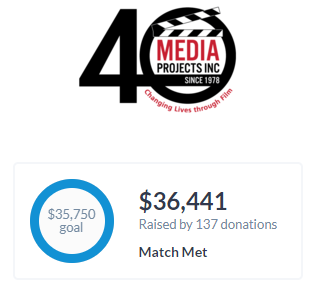 So much is happening at Media Projects. IN HER SHOES had a successful impactful virtual screening with partner EMPOWERING WOMEN OUT OF PRISON. EWOP will be screening the film to over 1000 people in the Texas prison system. We are working with TUFTS and BOSTON UNIVERSITY on our September 28th screening. And COLUMBIA UNIVERSITY is next.

PBS – KERA-TV will be broadcasting our Lone Star Emmy Award winning film A FAIR TO REMEMBER on September 14th at 7 pm and October 3rd at 4 pm. The woman-owned business (Fab entrepreneur Merrilee Kick) BUZZ BREWS is sponsoring the broadcast.
Two films have been picked up to be broadcast on national PBS in 2022- IN HER SHOES and another Emmy Award winning film A REASON TO LIVE.
And WEST OF HESTER STREET is the featured event at The Texas Jewish Historical Society and The New Mexico Jewish Historical Society virtual meeting October 30th.
We do believe that films make a difference!!!