Stories of love, sex, marriage and divorce as told from behind the doors of women's restrooms.
Film
Discussion Guide
Reviews
Film
Film
Media Projects takes you where no man has gone before … with the release of The Ladies Room, a hilarious 42-minute documentary about what really goes on behind closed doors. Women share stories of love, sex, marriage and divorce, and comment on everything from body image to their mothers … all the while fixing their hair and makeup.
Women's Responses
Best laugh:
finding out I was in the men's room by accident.
almost getting knocked down by a guy hurrying to get into what he thought was the men's room.
when you hear gossip about a guy that you like a lot.
Most memorable experience:
peeing on top of ice in the toilet bowl-just like men get to do at the most upscale establishments
sharing confidences, telling my sexual worries or how fat we are looking
Wildest experience:
when I tried to use a hair-dryer to dry my pants & undies when a drink was spilled in my lap, the undies briefly caught on fire and kind of disintegrated before my eyes! I was scared what else might catch fire and disintegrate….
How you rate ladies rooms:
Cleanliness, adequate supplies, smell, size, number of stalls, décor, separate seating area
Worst ladies room visited:
A steakhouse in Ponder, Texas was one of the worst-it was still out back.
What you would change about a ladies room:
I would make the (presumably male) designers of ladies toilets feel whwat is like to have to stand in line and wait for an eternity to finally get into a cubicle.
better quality toilet paper, placing paper towels & trash recepticals by the handwashing sink so you don't have to drip over to the machines, automatic toilet seat covers in all restrooms.
Men's Responses
Why you think women go to the ladies room in pairs:
to keep each other company
What you think they talk about:
What you think they "do" in there:
talk and women's business
If you have ever visited the ladies room and what it was like:
Discussion Guide
Reviews

Sole Sisters
"Every Shoe has a story. Every woman has both." SOLE SISTERS will be a documentary film about women's lives seen through personal stories about their shoes. Anchored by the film, Media Projects will develop a multi-media platform with educational and entertainment experiences that include the web, theater and publishing opportunities.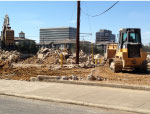 The Battle For Our Neighborhood
Tells the human impact of development over the past 15 years in a Dallas neighborhood. Its story can be repeated in other cities around the country.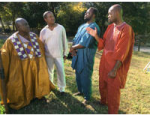 JOHN KIZELL: A Slave Fights Slavery
Recounts the heroic life of John Kizell - seized from his African village and brought to Charles Town, S.C. as a slave in 1773. Eventually, he returned to Africa as a free man to fight the slave trade.